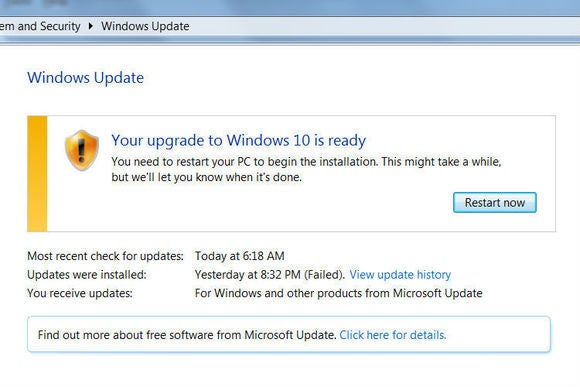 Microsoft is reportedly making it harder for Windows 7 and Windows 8.1 users to avoid the upgrade to Windows 10.Some users now claim that they no longer see an option in the Control Panel to install updates to their current version of Windows. Instead, a message says that the "upgrade to Windows 10 is ready," and prompts users to "restart your PC to begin the installation." Another user claims to have seen a countdown timer for installing Windows 10, with an option to reschedule but no way to call off the upgrade entirely.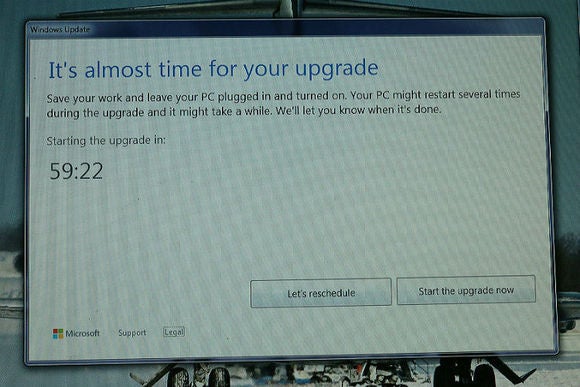 Both upgrade tactics were reported by Josh Mayfield, whose GWX Stopper program is designed to eliminate Microsoft's Windows 10 update notifications. In a blog post, Mayfield said GWX Stopper can't help users who've seen either of the above dialogs. (The post was first spotted by ZDNet.)
If the reports are accurate and not due to user error of some kind, it's yet another case of Microsoft trying to ramp up Windows 10 adoption by coercion rather than incentive. Microsoft has previously confirmed that it automatically downloads Windows 10 installation files without users' permission, occupying as much as 6GB of storage space in a hidden folder. Slyly executing the installation would be the next logical step.
We've reached out to Microsoft for comment, but have yet to hear a response.
Why this matters: For most people, Windows 10 should be an improvement over previous versions, but there are plenty of users who have perfectly valid reasons not to upgrade. Microsoft likes to talk about how it wants people to love Windows, but that's not something you can force.
Credit: Josh Mayfield

Windows users report Windows 10 upgrades are enforced on their systems
Reports are coming in that Windows 10 upgrades seem to be enforced on some systems without users explicitly giving permissions beforehand to download and install the upgrade to Microsoft's newest operating system.Two new types of Windows 10 upgrade messages appeared lately on systems running previous versions of Windows. The first displayed a a timer counting down from 60 minutes giving users options to start the upgrade process or reschedule it (but not disable it).
It's almost time for your upgrade

Save your work and leave your PC plugged in and turned on. Your PC might restart several times during the upgrade and it might take a while. We'll let you know when it's done.

Starting the upgrade in
The second displayed only the option to start the Windows 10 upgrade process after searching for updates using Windows Update (again with no option to stop the process).
Your upgrade to Windows 10 is ready.

You need to restart your Pc to being the installation. This might take a while, but we'll let you know when it's done.
Both are reported by the creator of GWX Control Panel, a free program for Windows to block the upgrade to Windows 10 on user systems.
According to the authors information, there is currently no option to fix the issue on affected systems.
If you are seeing either of the above two screens, exactly as they appear here, GWX Control Panel is not yet able to help you, although I am looking into whether it's possible to fix these things through software. I do not have any recommendations at the moment, though, unfortunately.
Workarounds
There is a couple of things that affected users can do to prevent the upgrade from happening in first place.
Stop the Windows Update Service. While this blocks the upgrade for the time being, it is not the best solution as it blocks you from receiving updates for your operating system.
Use System Restore to revert back to a previous system state. This is one of the better options provided that a System Restore point is available. To run System Restore, tap on the Windows-key, type cmd and hit enter. Type rstrui.exe and hit enter again to open the System Restore interface on the system. System Restore is not turned on by default on newer versions of Windows.
Restore a backup or system snapshot that you have created with third-party programs.
So why is this happening?
It is unclear right now how widespread the enforcement of the upgrade is and whether it is a bug, test or on-purpose turning of the screws by the company in an effort to get more systems upgraded to Windows 10.
To give Microsoft the benefit of the doubt, it is possible that this is a bug that is affecting only some systems. While that is not really reassuring to affected users, I find it unlikely that Microsoft enforces upgrades to a new version of Windows without user consent.
Now You: Bug or no bug, have your say. (via ZDnet)
Source: http://www.ghacks.net