Aldrin, 86, flown to US base after condition 'deteriorates' during tourist visit
Second man on moon will be flown to New Zealand 'as soon as possible'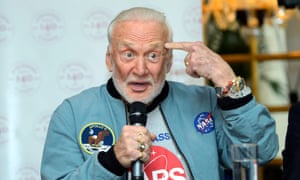 Buzz Aldrin, the second man to walk on the moon, has been evacuated from the south pole after falling ill during a tourist visit.
The tour guide company White Desert said Aldrin's health had "deteriorated" and the 86-year-old had been flown out of the south pole to McMurdo Station, a US Antarctic research center on Ross Island off Antarctica. A doctor described his condition as stable.
The company said in a news release:
As a precaution, following discussion between the White Desert doctor and the US Antarctic Program (USAP) doctor, Mr Aldrin, accompanied by a member of his team, was evacuated on the first available flight out of the South Pole to McMurdo with the USAP under the care of a USAP doctor. His condition was described as stable upon White Desert doctor's hand-over to the USAP medial team.
The National Science Foundation said in a statement that it provided a medical evacuation flight to Aldrin, described as an "ailing visitor", after a medical request on Thursday.
The NSF is arranging a flight for the astronaut to New Zealand "as soon as possible".
Three days ago, Aldrin tweeted photos of himself in Cape Town, South Africa, about to board a plane to Antarctica.
South Pole here I come! #antarctica #WhiteDesert #GYATAntarctica pic.twitter.com/PPjfmKvanZ

— Buzz Aldrin (@TheRealBuzz) November 29, 2016
Buzz's Polar Penguins countdown to liftoff has commenced. #Antarctica #WhiteDesert pic.twitter.com/0vDc1yP0gT

— Buzz Aldrin (@TheRealBuzz) November 29, 2016
Aldrin walked on the moon in 1969, as part of Apollo 11, the first manned mission to Earth's satellite. He has written numerous books about space travel and Mars.
Source: https://www.theguardian.com