by Tyler Durden
The U.S. Air Force's secretive X-37B, also known as the Orbital Test Vehicle, is a robotic spacecraft, landed Sunday morning after 780 days in orbit, beating its previous record of 718 days, reported Space.com.
The X-37B touched down at the Shuttle Landing Facility of NASA's Kennedy Space Center in Cape Canaveral, Florida, early Sunday morning. The classified mission, which initially began in September 2017, started on top of a SpaceX Falcon 9 rocket.
"This program continues to push the envelope as the world's only reusable space vehicle. With a successful landing today, the X-37B completed its longest flight to date and successfully completed all mission objectives," Randy Walden, director of the Air Force Rapid Capabilities Office, said in a statement. "This mission successfully hosted Air Force Research Laboratory experiments, among others, as well as providing a ride for small satellites."
X-37B's real mission in low Earth Orbit (LEO) is classified. But a 2017 Air Force press release detailed the plane is a "host platform for experimental payloads."
"This mission carries small satellite ride shares and will demonstrate greater opportunities for rapid space access and on-orbit testing of emerging space technologies. Building upon the fourth mission and previous collaboration with experiment partners, this mission will host the Air Force Research Laboratory Advanced Structurally Embedded Thermal Spreader payload to test experimental electronics and oscillating heat pipe technologies in the long-duration space environment," the Air Force said back in 2017.
In July, we reported how an amateur space enthusiast captured the X-37B orbiting Earth on camera.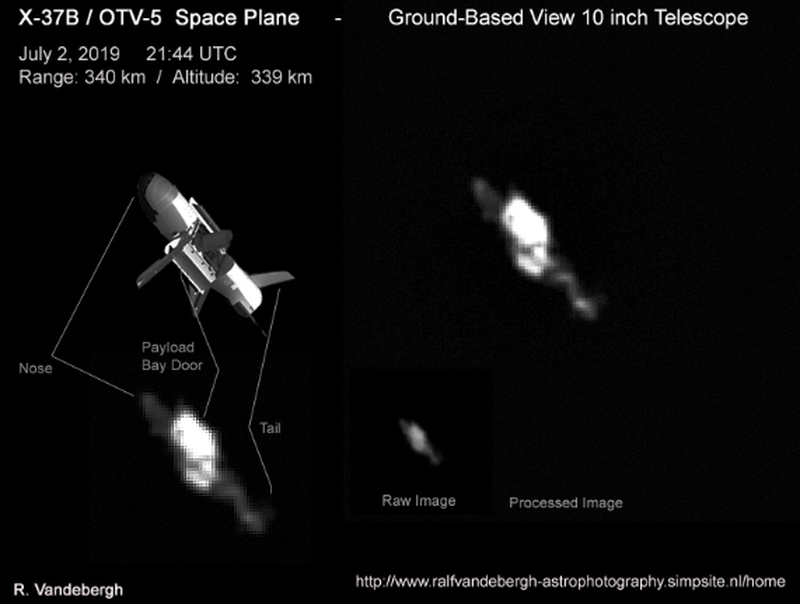 The X-37B resembles a smaller version of NASA's retired Space Shuttle orbiter. It measures 29 feet long, 9.5 feet high, and has a wingspan of only 15 feet. The payload bay is about 7 feet long by 4 feet wide.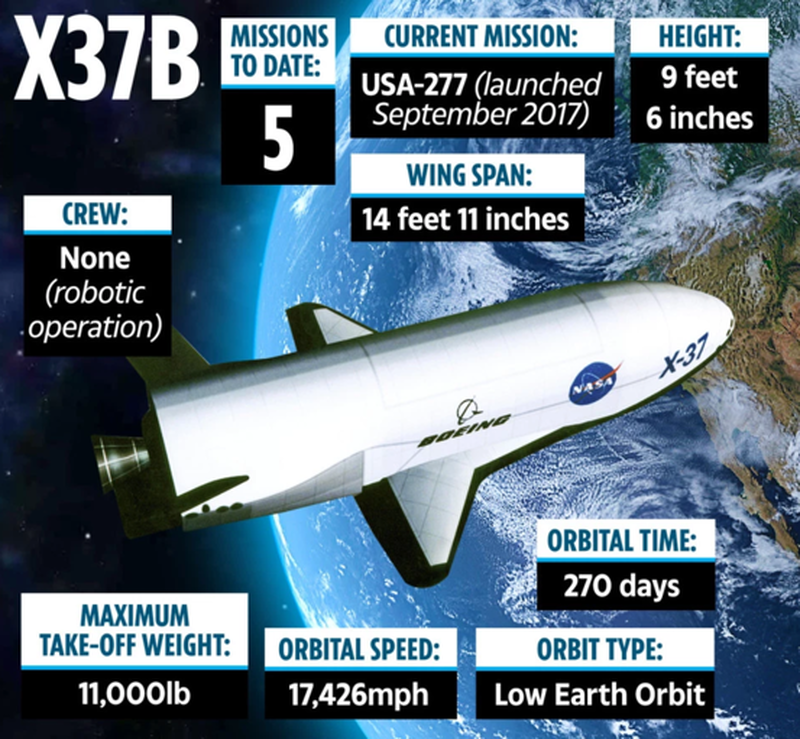 Ground-based infrared sensors captured the moment the X-37B landed on Sunday morning.
Early this morning, the mysterious X-37B returned from nearly 800 days in orbit. IR footage from an earlier landing will give you a healthy dose of intrigue. https://t.co/8TeGh1Ni0E

— AeroDork (@AeroDork) October 27, 2019
More footage shows ground crews in spacesuits working on the plane after it landed.
Something like this video would be nice for OTV-5…. hint hint, wink wink, nudge nudge 😉 (OTV-1 video…) #X37B #OTV5 #OTV1 https://t.co/8YBYpmdJtB pic.twitter.com/UWUK9wycj6

— DutchSpace (@DutchSpace) October 28, 2019
Here's another view of the spaceplane.
Air Force: The secretive X-37B space plane landed at KSC's Shuttle Landing Facility this morning at 3:51 AM after 780 days in orbit. #X37B

The vehicle was launched by Falcon 9 on Sept 7, 2017: https://t.co/JbqvgpmzPP pic.twitter.com/UB1nwjmwqW

— pat o. 🚀 (@spacepat_o) October 27, 2019
As for the exact mission, we'll never know what the X-37B did for 780-days while orbiting the Earth.
Source: https://www.zerohedge.com